Honda VF750 VF750C VF750CD VF750CR VF750C2 RC43 igniter ignition module CDI TCI Box (30410-MZ5-671)
3 Year warranty
Plug&Play

For:
Honda VF750 igniter ignition module CDI TCI Box
Honda VF750C igniter ignition module CDI TCI Box
Honda VF750CD igniter ignition module CDI TCI Box
Honda VF750C2 igniter ignition module CDI TCI Box
Honda VF750CR RC43 igniter ignition module CDI TCI Box
1994 1995 1996 1997 1998 1999 2000 2001 2002 2003

Honda OEM number:30410-MZ5-671

For this price Carmo replaces the entire board of your unit by a new advanced version.
You have to send us your unit (address), so we can mount the digital replacement in your unit.
Within 3 working days.
3 Years warranty!
What's improved/better compared to the original unit?:
- The unit is protected against overvoltage (defect voltage regulator/rectifier, bad battery, ...).
- The unit is protected against a defect ignition coil and reverse battery connection.
- The unit has an acceleration correction, when the bike revs up the ignition delay will be a bit more (in proportion). Smoother acceleration.
- The unit uses digital technique, so it is more accurate and temperature changes have no influence, the curve is also optimized for more power.
- When the battery voltage changes the unit will change the control to the ignition coil so the spark power will stay the same.
- Start mode, during engine start the unit will give more current to the ignition coil for a faster start.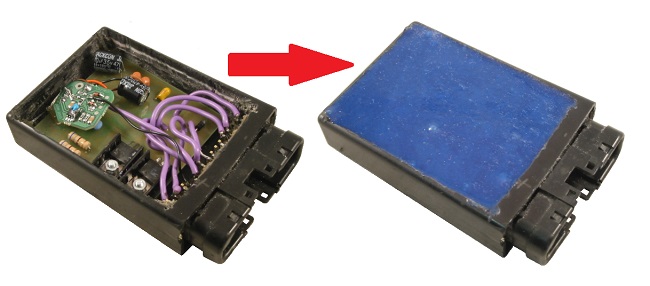 Team-Carmo
Digital ignition systems.
Our digital ignition systems come with 3 years warranty. Production errors, quality issues and internal problems are covered by this warranty.
The Carmo digital ignition systems are protected against high voltage peaks, defective HT coils and reverse battery connection.
This protection means that the Carmo digital ignition will not be damaged immediately in case of faulty electronics in your motorcycle.
Long term use of a motorcycle with faulty electronics may still result in damage to the Carmo digital ignition system.
This means that without solving the electrical issue the Carmo digital ignition could break down after a while.

If research shows that your Carmo digital ignition was damaged by faulty electrical parts, the warranty rights will not be valid.
If this situation occurs we will attempt to repair your ignition system in order to keep the costs as low as possible.
If the system is beyond repair a new product will be offered at a reduced price.
In all cases we will try our best to offer an acceptable solution.

Testing your original ignition module is free of charge when purchasing one of our replacement systems.
During the test we are often able to find out what caused your original module to break down.
This way you will know for sure if your original module really needs replacement, and you'll be able to solve other electrical issues that may not be known yet.

Team Carmo.

There are currently no questions about this product.